LATEST NEWS
27.02.2019
Tomorrow in Berlin:
11.02.2019
NEW single+musicvideo!
The new single GET INTO THE POSITIVITY is now out for streaming
And the musicvideo made by www.naicke.net is ready too:
29.01.2019
UPDATED Tour calendar
The concerts planned for 1st. half of 2019 are now updated at the CONCERTS page.
21.01.2019
HAPPY NEW YEAR 2019!
Another year went by, and what a year! 70 concerts played and a lot of driving around exploring new cities and venues in Denmark, Germany , Switzerland,Holland and Czech Republic .
Thanks to everyone coming out to the shows!
This new year already looks like a lot of activity.
In 2 weeks the new single GET INTO THE POSITIVITY will be released, and it will be followed by an EP release in March or April.
And a lot of gigs are already planned. I am excited. Hope you too! Stay tuned!
19.01.2018
HAPPY NEW YEAR!
Looking forward to the new year with a lot of activities planned already!
Check out the concert site, that is fully updated now for first half year of 2018
And more shows will be added within the next months!
Looking forward to visit YOUR city, and new countries like Czech Republic and Holland!
Stay tuned!
04.12.2017
Special guest at the BIG COUNTRY show
Yesterday I had so much fun doing a warm up show for BIG COUNTRY at Columbia Theater in Berlin.
Thanks to POPMONITOR!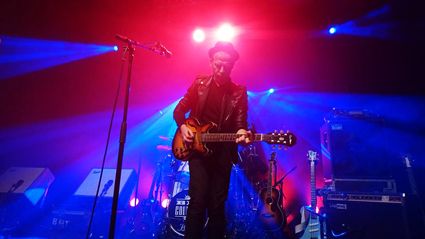 01.12.2017
ONE album, in ONE day, recorded with ONE microphone.
This was the concept of my new solo album The Funkhaus Session.
The recordings took place in August at the legendary FUNKHAUS studio (former Planet Roc)
at the former GDR broadcast city complex FUNKHAUS in east Berlin. All songs are recorded in one take too. No overdubs.
The album is available on all streaming platforms world wide from today.
The album is also available on CD (and later vinyl) but can only be purchased at concerts.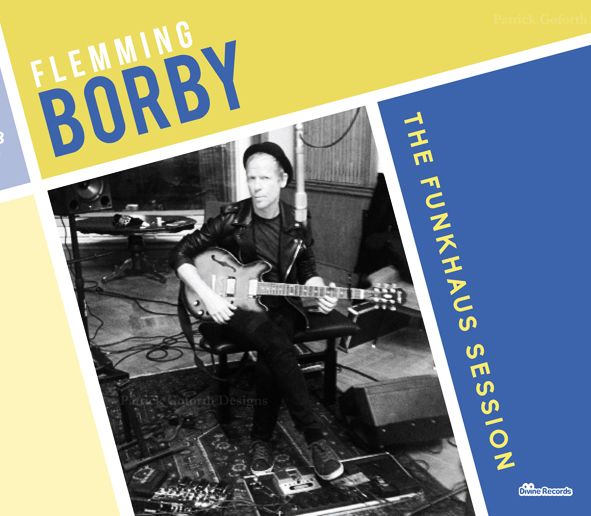 08.11.2017
SHOWS IN GERMANY & SWITZERLAND
On my way to Switzerland. Looking forward to play some nice shows the next days:
10.11 Garasche, Aarau (CH)(solo)
11.11 Phrontistery, Luzern (CH)(solo)
17.11 Kiss, Freiburg (DE)(duo)
18.11 Störtebeker, Ansbach (DE)(duo)
19.11 Café One, Emerkingen (DE)(duo)
20.11 Trachtenvogl, München(DE)(duo)
22.11 Nochjemandwein, Bielefeld (DE)(solo)
03.10.2017
SOLO TOUR IN DENMARK
Right now in solo tour in Denmark. Here is a video clip from last night late in Copenhagen:
01.09.2017
REVIEW ON NEW ALBUM
First reviews ticking in. Here from INTRO:
"Hell Is Too Far is a gorgeous written Indie-Pop Album from the international music scene in Berlin.
The album reminds you often of the Go-Betweens outstanding songwriting qualities"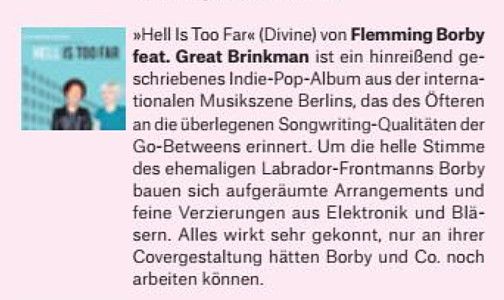 27.08.2017
NEW ALBUM OUT IN FRIDAY
The Hell Is too Far album is out in Germany on this friday, hooray!
12.07.2017
EPK-interview
Greta and I did an interview on our backgrounds, and new album coming out soon:
06.07.2017
Musicvideoteaser
In 2 weeks on the 21st of July, the single "Hell Is Too Far" from forthcoming album
will be released in Germany. The Musicvideo too. Here is the teaser!:
22.05.2017
Shows in June
Greta and I will play 2 nice shows in Berlin in June:
15.06. ► Berlin, Dodo's Kreuzberg
18.06. ► Berlin, DRAGONALE Festival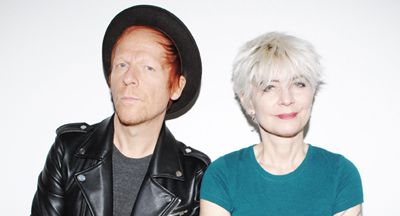 Looking forward to seeing you!
14.02.2017
Shows this spring
I will be travelling around this spring to do solo shows. I am looking very much forward.
Hope to see some music friends out there:
15.02 Filmwerk, Helmbrechts (DE)
16.02 Kaffee Kra, Altdorf (CH)
17.02 AmDamm, Zürich (CH)
18.02 Mundwerk, Thun (CH)
28.02 LOFT concerts, Nürnberg (DE)
01.03 Neruda, Augsburg (DE)
02.03 Z-Bau, Nürnberg (DE)
03.03 Brandmarken, Jena (DE)
04.03 Mühlstrasse, Leipzig (DE)
09.03 Private arr. Berlin (DE)
06.04 Ludwig, Halle (DE)
08.04 Kulturbaustelle, Suhl (DE)
12.04 Plan B, Bielefeld (DE)
07.12.2016
4 shows in Berlin to end this year in a nice way!
Greta and I will do a small "Berlin- Tour" in december, doing 4 shows.
Hope to see you!: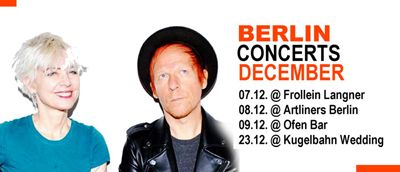 28.10.2016
The "Off The Record" tour starting out tonite in Lübeck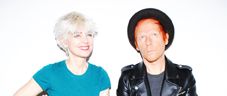 Meanwhile waiting for our new record to be released, hopefully beginning of next year
(its already, recorded, mixed and mastered - and its great!)
there will be a small tour for me to do alone this autumn.
Its starting out tonite at TONFINK in Lübeck, as an exception with Greta by my side,
because then she is going back to USA the whole November (to vote for Donald Duck amongst other things) ,
and will be back with me again at the ARTLINERS show in Berlin 9th of December.
The tour is planned so:
28.10 Tonfink, Lübeck (DE)(duo)
04.11 Astra Stube, Hamburg (supporting Pete Astor TBC) (DE)(solo)
09.11 Wort & KLang, Erlangen (DE)(solo)
10.11 Südstadt Sessions, Nürnberg (DE)(solo)
11.11 OMA, Weimar (DE)(solo)
12.11 Altes Stellwerk, Solingen (DE)(solo)
18.11 Garage, Aarau (CH)(solo)
19.11 The Phrontistery, Luzern (CH)(solo)
21.11 Trachtenvogl, München (DE)(solo)
22.11 Dankbar, Mannheim (DE)(solo)
23.11 Brause, Düsseldorf (DE)(solo)
28.11 Schick & Schön, Mainz (DE)(solo)
08.12 Artliners, Berlin (DE)(duo)
Hope to see some friends and music lovers out there!
07.09.2016
Sunday at the embassy
This coming sunday we will do a small concert at the Royal Danish Embassy in Berlin
Show starts at 16.00. Free entrance. Free beer and food. There is also a positive side..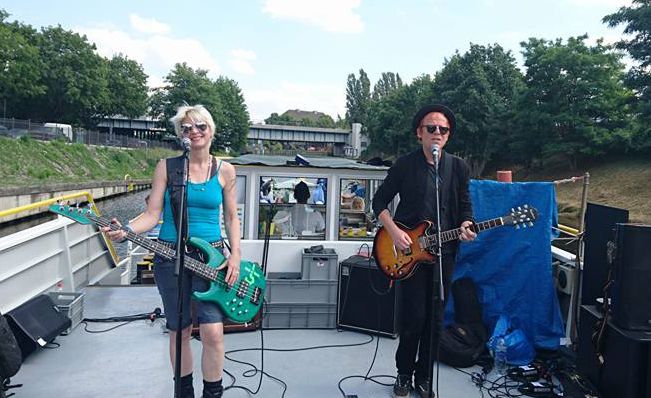 24.08.2016
Liverecording session concert in Berlin
The next saturday (03.09.2016) Greta Brinkman and I will do a concert at KIEZ99 in Berlin
Its free and together with KING STONES (JAM) ELENA GNISS (DE)
It will all be recorded by great film and sound recording teams. We are on at 20.00 sharp. Come along!
22.06.2016
48H Neukölln Festival
This coming sunday Greta Brinkman and I will do a concert as part of the 48H Neukölln Festival in Berlin.
Its on a tourist boat and we play meanwhile the boat is sailing around in Berlin for an hour.
We are on at 15.00 and 16.00. Come along!
03.06.2016
Recording new album
Started to record new album this weekend in Berlin.
Earl Harvin on drums and Greta Brinkman on bass. Album due to release in November!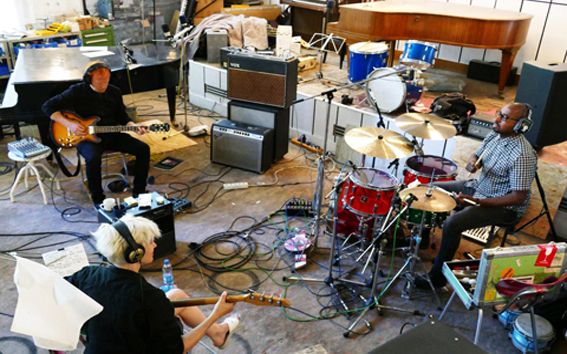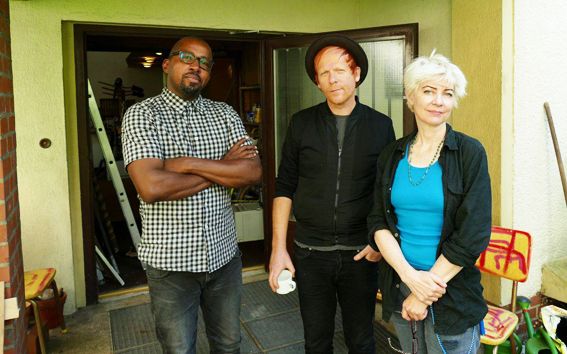 09.04.2016
New video
New video for the song MUD AND MOULD. Shot in January in Spain by Johnny Stage.
15.03.2016
New year - new songs - new tour - new album
Already many plans for this year. And already two shows this week: on thursday @ Artliners in Berlin, and on saturday: Songs Auf Dem Boot, also in Berlin. Both concerts will be with faboulus GRETA BRINKMAN by my side playing bass and singing harmonies. Come out!
04.12.2015
BACK FROM TOUR!
18 shows done within the last month..
It was a pleasure to travel around and doing shows in Germany, Switzerland and Denmark!
Thanks to EVERYONE showing up!
Had also fun to play the last shows with
GRETA BRINKMAN on bass and backvocal.
Hope to do more shows with her next year!